F-PC Force USA Power Rack
F-PC Force USA Power Rack is solid steel power cage that is built to last. This equipment is package deal that includes all other fitness components of Force USA that can only be purchased at Amazon.
This include F-PCC cable cross-over, F-PCP Pec Dec, F-PCL lat high/low pulley and F-FID flat/incline/decline bench. With additional attachment features, F-PC Force USA Power Rack is much more versatile, solid, compact and fitness effective.
F-PC Force USA Power Rack redefines how a power cage should be and makes other products inferior in both design and features.
Read on and learn how this power cage works and if it is the most suitable fitness equipment for you.
What is F-PC Force USA Power Rack?
F-PC Force USA Power Rack is designed by a fitness equipment manufacturer called Force USA Fitness. This equipment is just one of the company's long line of quality and dependable fitness machines.
Amazingly designed cage, F-PC Force USA Power Rack is impressively built for both beginners and seasoned lifters as it provides over 30 most effective free weight exercise that can only be done using a machine.
One of the few products in the market that has been classified as "Class A" rating, the F-PC Force USA Power Rack features SteelForce Structural Integrity and a heavy-duty DuraCore high density foam padding wrapped in a sewn rip-stop VorTex Upholstery.
This means that F-PC Force USA Power Rack is built to take punishments. Its powder coating is also environmentally friendly using EcoCoatTM.
F-PC Force USA Power Rack can give you solid workouts because it comes with Band Pegs, Multi Grip Chin Up Bar and Dip Station. This is the only power cage that is independently tested to AS/NZS 1170 structural standards, a testament that it has enough ability to withstand any workout, even for gym use.
F-PC Force USA Power Rack accepts either standard or Olympic sized weight plates. It combines with optional Lat Pulldown/Low Row, Pec Deck and Cable Crossover, giving you maximum workout with unlimited exercise options. All of these in the comfort of your own home.
As aforementioned above, this power cage can provide positive and negative exercises along with assisted pull ups, band weighted pull ups, assisted dips, band weighted dips, resisted push ups and many more.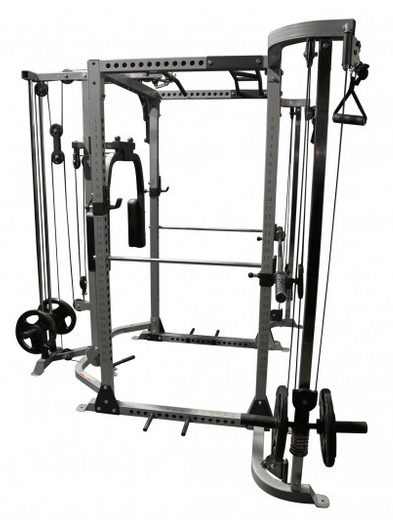 F-PC Force USA Power Rack Full Specifications
Independently tested to AS/NZS 1170 Structural Standards
Assembled Dimensions: F-PC only – 139cm L x 125cm W x 215cm H
F-PCL Height: 216cm
Rack with Lat Pulldown, Pec Deck & Cable Crossover: 214cm L x 250cm W x 216cm H
Accepts either standard or Olympic sized weight plates
4 x Barbell Hooks and 2 x Stainless Steel Barbell Safety Bars
4 x Band Pegs
Fully welded steel foot plates with hole to bolt the rack to the floor
Checker footplate for Seated Row Exercises
Numbered positions on uprights and crossbars for hook and band peg positioning
Heavy duty steel dip handles and multi-grip chin up bar
Solid steel frame with 5mm solid steel backing plates
Over 50+ exercises
SteelForce Structural Integrity
DuraCore High Density Foam Padding
VorTex Upholstery
EcoCoat
Sewn Seats
Warranty: Lifetime Structural Warranty along with 2 years warranty on all cables and pulleys
Static Weight Load Capacities:
Barbell Hooks: 1,000 pounds
Barbell Safeties: 1,500 pounds
High & Low Pulleys: 800 pounds
Cable Crossover: 800 pounds each
You can purchase F-PC Force USA Power Rack online via its Amazon sales page.