BodyCraft Jones Club is a revolutionary machine from BodyCraft Fitness that features the freedom of a power cage and the safety features of a smith machine.
If you are looking for a smith machine that is designed to eliminate the risk of injuries while providing almost unlimited variations of exercises, then the Jones Club is your perfect machine!
Though not your ordinary commercial gym, the BodyCraft Jones Club comes with a hefty price tag. But before you get discouraged, read this product review first and learn first hand why this machine is one of the most ideal product for your own home gym.
What is BodyCraft Jones Club?
BodyCraft Jones Club was designed by BodyCraft Fitness, a fitness equipment company that manufactures high-end products.
This machine offers several unique features that you definitely going to love. First, it is the first smith machine that feature a patented 3-D barbell motion, which enables you to do unlimited array of workouts. This makes BodyCraft Jones Club the safest barbell ever created.
As you know, smith machines moves vertically only, but BodyCraft Jones Club moves both vertically and horizontally. This allows you to more natural and user-defined motion.
Because your body can do natural movements, all free-weight exercises are possible to perform. All horizontal motion can also be locked for conventional "smith machine" type of workouts. This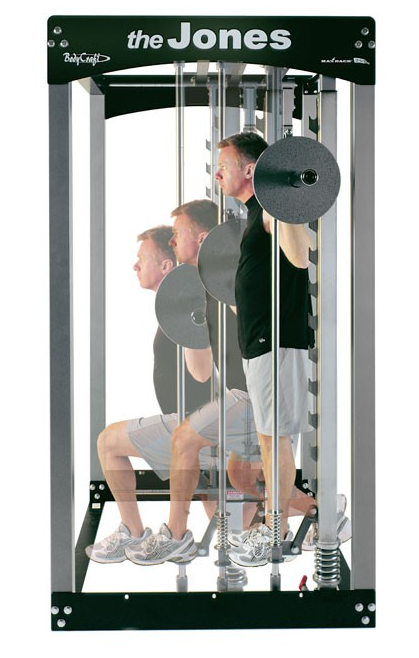 What is So Revolutionary about BodyCraft Jones Club?
As aforementioned above, BodyCraft Jones Club was designed to be the safest bodybuilding machine in the market. According to most reviews and expert opinions, this machine is the safest barbell ever made for the solo lifter!
How safe BodyCraft Jones Club is? Well, it is like a power rack where the bar hooks and safety spotters move along with every movement you make. See the image above.
Plus, it feature a 7-feet Active Balance Bar. This is not your usual Olympic bar where you are prone to injuries and accidents. The Active Balance Bar provides you the benefits of barbell training by combining stabilizer muscles and promoting symmetry.
This Active Balance Bar is attached to the bearing housings through a limited-range coupler. This allows the bar to tilt but never too far to go beyond the bar hooks and safety spotters.
BodyCraft Jones Club reduces your risk of injuries since the hooks move along with the bar. The "lift off" and "racking" of the bar are always done at your natural position. Clever isn't?
You don't have to reach behind your head for pressing exercises, which puts your shoulders into an injury-prone position. You also don't have to lean forward for squats. You always start and end your workout in the most natural position, which is the safest way to exercise.
BodyCraft Jones Club can be set up for your next exercise easily than most conventional smith machines. You just raise or lower the bar to your desired starting position, add the desired weight, set safety spotters and being lifting!
How about results? BodyCraft Jones Club can give you much more muscle and strength gains than conventional smith machines in the market today. Since the hooks move along with the bar (spaced at 4-1/2″ intervals), you can push to full muscle fatigue and rack the bar at the level where you get stuck by simply rotating your wrists.
No need to rely on the safety spotters when you push your workouts to the limit.
BodyCraft Jones Club Full Specifications
Construction: 1/4″ plate steel and 3″ x 3″ 1- gauge steel and 2″ x 2″ 11 gauge steel tube
Movement: All parts glide smoothly on industrial grade LM25 linear bearings and 30mm solid hardened steel guide rods.
Bar Hooks: Suspended atop heavy-duty dampening springs
Dimensions: 84″ W x 44″ L x 83″ H (frame is 55″ wide without bar)
Warranty for Commercial Use: 10 years on frame, 2 years on parts
Warranty for Residential Use: Lifetime on both frame and all parts