The Lifecore Fitness Assault Air Bike Trainer is one of the most reputable exercise bikes in the industry with a whooping 4.9 Star rating in Amazon. This means that this brand almost have a perfect satisfaction ratings from each people who bought this product.
But can the hype truly deliver satisfactory results for you? Is it really a dependable machine that can help improve your cardio while helping you to lose weight?
If you want to improve your overall health by using a fitness bike, then you have to read this short product review and learn if Lifecore Fitness Assault Air Bike Trainer is the most suitable fitness equipment for you. Read on and get more insights.
What is Lifecore Fitness Assault Air Bike Trainer?
Lifecore Fitness Assault Air Bike Trainer is designed and distributed by LifeCore Fitness, a gym equipment company that produces quality ellipticals, bikes, rowing machines and accessories.
This new fitness bike features a more aggressive design which is completely suitable to its "Assault" name. It has modern features that is physically wrapped into an old traditional air resistance exercise bikes. This makes the Assault Air Bike Trainer one of the simplest but truly sturdiest and dependable fitness bikes in the market.
One of the ideal features of this brand is its upgrade design on its pivot points which uses bearings instead of bushings. Conventional fitness bikes is made out of bushings but experts in LifeCore Fitness guarantees that bearings are much comfortable and gives more powerfully smooth operation. 20 sealed ball bearings are configured throughout the frame and pivot points.
Its resistance is powered by air, so you can workout with practically no limits. You can dictate the tempo of both your legs and arms through this unlimited resistance through air power.
Lifecore Fitness Assault Air Bike Trainer Features a monitor that displays your time, distance, calories, watts, RPMs, speed with the on board smart computer console. Plus, this fitness bike includes a motivating programs like Tabata Intervals, a fitness routine that helps improve your strength and stamina or choose the heart rate monitoring program to monitor your pulse and start up your aerobic base.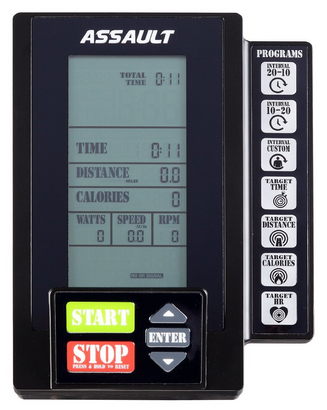 LifeCore Fitness Assault Air Bike Trainer features a 25-inch diameter steel fan that helps deliver maximum resistance for your workouts. It has an adjustable seat post that can be adjusted in six positions (up, down and tilt).
Based from its customers, this fitness bike is sturdy and solidly built for intensive use which is ideal also for both commercial and private use.
If you are an athlete, cyclists or just a regular fitness enthusiast, Lifecore Fitness Assault Air Bike Trainer is a perfect exercise machine for you as it can provide moderate to intense interval training and is an ideal regimen for warming up before and after exercises.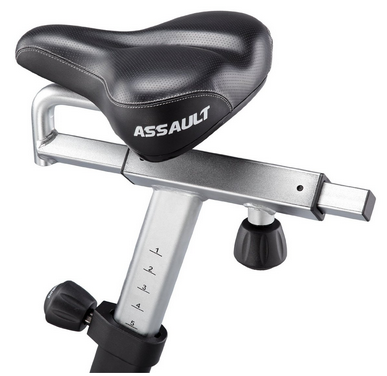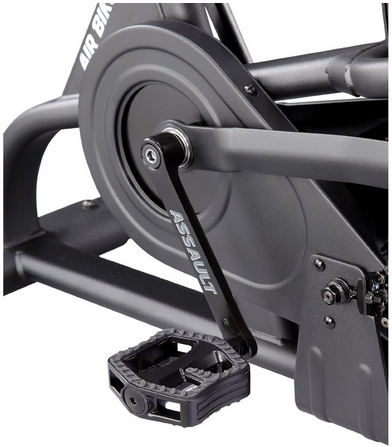 LifeCore Fitness Assault Air Bike Trainer Reviews
Love my assault air bike, I recently bought one for my home gym and couldn't be more pleased with it – robust construction, smooth performance and easy to use, I like the built in Tabata timer.  Whether it's used at your box or home gym, it should last a long time.
No doubt this is the real deal. I have used other air resistance bikes and none are designed like this or built to the commercial specs of the air assault bike. I use these at my Crossfit box and they truly will give you the best cardio lung crusher ever.
This air bike is like no other. I work at a local, let's say cross training facility and we just got our order in. It's beefed up compared to other air bikes on the market and you can tell that this one was designed to be used in a commercial setting. The old bikes just could not handle the stress of being in a gym. Overall very happy with them and will report back in a few months to testify as to their longevity.
I choose this for the air wheel I get very warm when working out & this keeps me very co& the harder you pump the cooler it gets! I like the bike very much except for the seat very h diffcult to sit on and as many times I tighten the seat it keeps turning to the side. Other than that it's great.