Do you like to workout outdoor? If you are a health junkie and you love sports and outdoor adventure, then you need Moda Molto Carbon Road Bike. This 2013 full-carbon road bike has simplified design but definitely built for speed.
Riding a bike is today's simplest and money-saving way to get fit. It is the natural way to improve your cardiovascular health without using a conventional fitness bikes that can cause hundreds to thousands of dollars.
The Molto offers superb handling and performance that only few other road bikes can offer. So either you are a cycling enthusiast or just looking for a road bike for personal fitness use, this Molto can definitely deliver. Get to know how this bike can get you fit aside from your regular gym workout.
What is Moda Molto Carbon Road Bike?
The Moda Molto Carbon Road Bike is one of 2013's award-winning bicycles and if you are looking for dependability and comfort, this brand is definitely for you. The Moda Molto Carbon Road Bike is a full LDC carbon bike and one of UK's top selling bicycles.
Moda have lined up this model with a blue, chalk and grey finish with bold graphics to make it stand out from the rest of the Moda's 15-bike models. Eurobike designs all Moda bicycles, just like the American Classic and Barelli.
The Moda Molto Carbon Road Bike frame features a short head tube (modern standards), a short wheelbase along with an oversized BB shell, thick chainstays and seatstays which makes the frame's design as built for racing.
Its drivetrain is of quality like no other, built together with carbon bladed shifters and machined mechs. These are paired with Barelli carbon chainset with high gloss finish and ridged crank arms. The arms are beautifully sculpted, curvily made for a much better heel clearance.
The chainrings handle shifts well with just slight delay, unlike any other road bikes. The bicycle is basically composed of Barelli components – slender bar and minimal stem (aluminum) at front. While a 31.6mm aluminum seat post with layback Barelly saddle positioned at the back.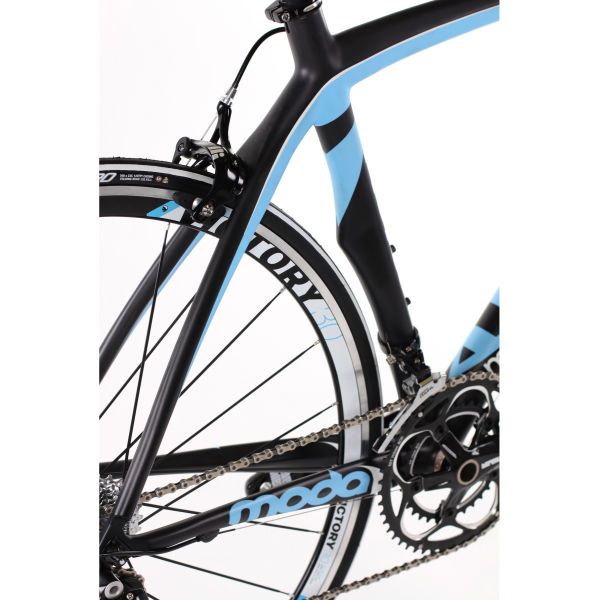 Moda Molto Carbon Road Bike – Handling and Performance
Most reviews about Molto is that, it certainly feels solid. It does not chatter over any terrain except of course if you crash it through potholes or anything that will make your ride bumpy.
Its short stout head, tube and oversized fork blades makes the steering a breeze, while its short wheelbase producing a good and fast motion ride.
The racing gear characteristic of Moda Molto Carbon Road Bike of 53-39 chainset with 12-25T cassette is just perfect for any fast, adrenaline-rush ride. But if you are just an average rider, the Molto is also perfect for you as it feature light wheels and a reduced overall weight.
The brakes of Moda Molto Carbon Road Bike is reported as one of its most ideal features. The Barelli brakes are cleanly attractive with a anodised cable QR cams, perfect for both wet and dry roads. The Swiss stop pads are of high quality, which compensates even if you are not an expert rider.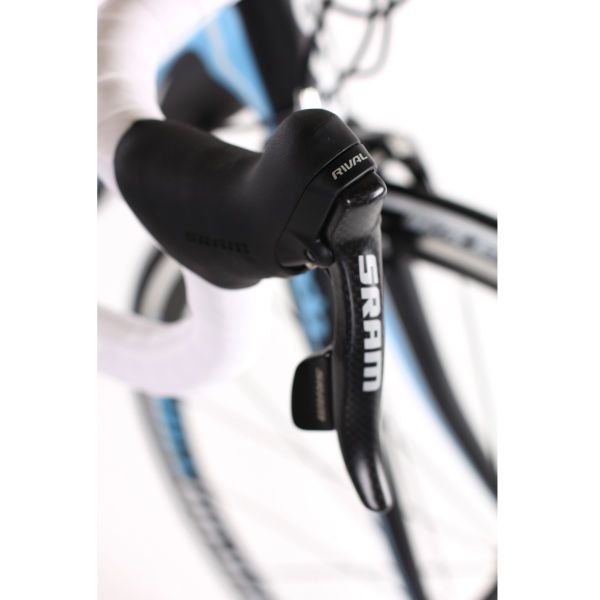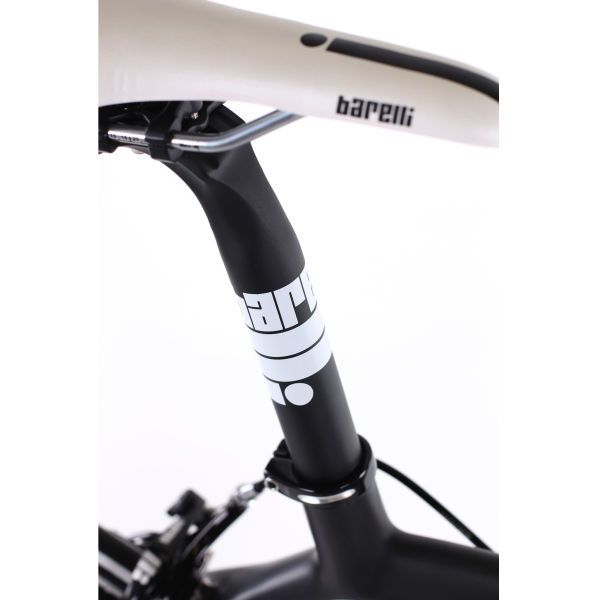 Moda Molto Carbon Road Bike Full Specification
Frame: LDC high Modulus Carbon Fork
Fork: LDC high Modulus Carbon Fork
Headset: Press Fit Sealed Cartride
Wheels: American Classic Victory 30
Tyres: Kenda Kaliente 23c
Shifters: Sram Rival 10 Speed
Rear Mech: Sram Rival
Front Mech: Sram Rival
Cassette: Sram 11/25
Chain: Sram
Chainset: Barelli Team race 53/39
Brakes: Barelli
Handlebars: Barelli Alloy
Stem: Barelli Alloy
Seatpost: Barelli Alloy
Bar Tape: Barelli
Saddle: Barelli
Pedals: not included
Bike size: 50, 52, 54, 56, 58, 61 cm
Color: Sky, Smoke and Chalk
Weight: 16.9 pounds / 7.6 kg
You can check out the price of Moda Molto Carbon Road Bike at ProBikeKit.com.