Looking for a powerful treadmill machine? If yes, then LifeSpan TR3000i Folding Treadmill is the right machine for you!
A lot of treadmills can be purchased online. However, there are only a handful equipments that can truly deliver your expectations. Can TR3000i satisfy your fitness needs?
Manufactured by one of the most popular fitness equipment companies – LifeSpan Fitness, the TR3000i is definitely a head turner and is now one of the most searched treadmills from Amazon (it is currently ranked first as of this writing, along with Innova ITX 9600 inversion table).
If you are searching for a durable and powerful cardiovascular machine, then you might want to read this product review. Read on and learn many great features of this treadmill.
What is LifeSpan TR3000i Folding Treadmill?
LifeSpan TR3000i Folding Treadmill is a monster treadmill with 2.75 horsepower output. You can never go wrong with this impressively designed motor.
Built by LifeSpan Fitness, the deck suspension of TR3000i claims to be "Biomechanically" correct, enabling it to support 350 pounds of maximum user weight.
Like most treadmills, LifeSpan TR3000i Folding Treadmill offers weight loss, healthy living, sports training, heart rate programs and many others.
One of the most award-winning treamill, the TR3000i was designed for safety and convenience, so you can enjoy your workout with peace of mind. The handlebar lets you control your speed and incline without ever removing your hands.
The result? You can run or walk without fear of losing your focus or balance while adjusting your preferred workout pace.
LifeSpan TR3000i Folding Treadmill is ideal for walking, jogging or running mode, in the comfort of your own home.
Aside from 2.75 horsepower, the TR3000i is not all about power, it also brings comfort as it provides a spacious 20 x 56 inches of running surface.
With LifeSpan Fitness Club account, you can have access to exercise programs and detailed reports of your workout and health results. The treadmill automatically saves your exercise date, helping you to track your workout progress.
LifeSpan TR3000i Folding Treadmill is equipped with multi-colored LCD console that tracks time, calories, distance, speed, steps, heart rate, incline level and more. With soft-touch keys, you can get on your preferred program instantly.
This multi-colored LCD offers various simultaneous readouts and workout programs to help you reach your health and fitness goals. Truly loaded with valuable features, TR3000i will help improve your overall cardiovascular health.
The console also offers many variety of preset workout programs that will give variations to your exercise routines. This is a crucial factor when choosing a treadmill machine as it gives you more reasons to start your workout, avoiding exercise laziness.
The workout programs are of LifeSpan TR3000i Folding Treadmill are divided by exercise motivation. These are weight loss (steady pace, long slow distance and uphill interval options), healthy living (with uphill climb, pyramid climb, plateau climb, ladder and uphill interval options) and sports training (seven programs designed to help you train for an upcoming sporting event).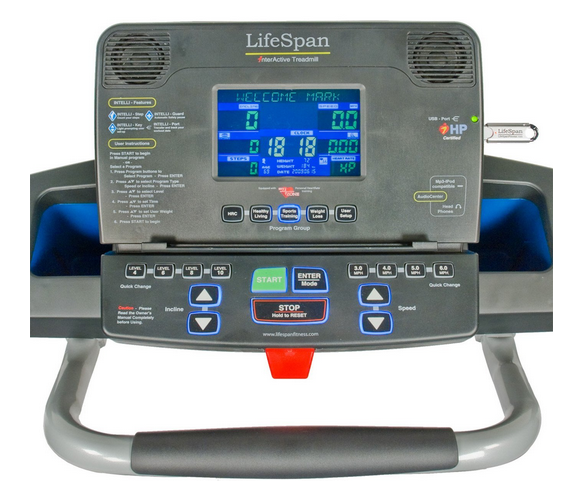 LifeSpan TR3000i Folding Treadmill offers two My Zone heart rate control programs and two custom programs. The My Zone Constant program will help keep you heart rate at a constant level, thereby using your heart rate as a fitness tool.
The My Zone Interval program lets you set your own minimum and maximum heart rate. While exercising, the machine's speed and incline will automatically adjust to keep your heart rate at your preferred level.
Since you are in charged of the machine's setting, the custom programs are fully adaptable to your favored workout formula
LifeSpan TR3000i Folding Treadmill features built-in speakers and a headphone plug-in. This enables you to easily listen to your preferred music as you exercise. The large front safety bar is designed and positioned for your easy access.
Plus, LifeSpan TR3000i Folding Treadmill provides an Intelli-Guard automatic safety pause that ceases that treadmill belt from moving when nobody is using the treadmill.
LifeSpan TR3000i Folding Treadmill Reviews
Great treadmill for walking and runnung! Set-up was a breeze and it folds up nicely. I bought a treadmill mat for it to set on the tile floor and it does not move at all. The console is very attractive and user friendly with large buttons. Have only used it for a week but I love this thing as does my wife! The motor is whisper quiet and it is steady as a rock! Was going to get the TR2000i but decided to spend a bit extra for this model; I am glad I did. Based on many treadmill reviews, I dont think you can go wrong with any model that Lifespan manufactures!
I just got done doing 4 miles on this treadmill, and I can't see any flaws yet in it. My wife is a very light sleeper, and it didn't wake her, so this is a good thing!
After reading the reviews I went with this model. It was perfect for the space and it is a solid, and strong treadmill. No cutting corners here. Very happy with my purchase. Delivered right to my door! Easy to assemble. Just heavy.
I have been using this for a couple of years now. Had a problem with the socket at first. It was disconnecting right in the middle of my workout. It seemed to be caused by elevating during workout. However, the company sent a replacement socket and that fixed the problem. Customer service was excellent.
LifeSpan TR3000i Folding Treadmill Full Specifications
Model: TR3000i
Belt Size: 20″ x 56″
Drive Motor: 2.75 horsepower continuous-duty DC
Incline Motor: 800 pounds max lift
Rollers: 2.5 inch front, 2 inch rear
Speed: 0.5 to 12 miles per hour
Incline: 15 levels
Deck Suspension: 8 variable-density elastomers
Deck: 1-inch phenolic
Side Rails: Nonslip plastic
Dimensions: 35″ W x 52″ H x 75″ D
User Weight Maximum Capacity: 350 pounds
Warranty: Lifetime on frame and motor, 5 years on parts and 1 year on labor