Are you looking to build some muscles and strength? Marcy MWM-988 Home Gym is one of the best home gym equipment that you can use to achieve your fitness goal.
This product is a complete fitness machine that offers total body workout with 150 pounds of weight resistance. This equipment also offers a dual function press arm and dual function leg developer, perfect for working both your upper and lower body.
Rated as a four-star home gym product in Amazon, it is one of the bestselling fitness equipment that you can choose for your muscle building program.
Do you want to learn more about Marcy MWM-988 Home Gym? Read on and learn the many features of this weight stack complete home gym.
What is Marcy MWM-988 Home Gym?
This 150 pound home gym weight stack (model MWM-988) is designed by one of the world's pioneers and top gym equipment manufacturer – Marcy Fitness.
What makes Marcy MWM-988 Home Gym one of the most popular home gym products in the market is its affordable price without sacrificing quality. A four-star rating average in Amazon is a big testament that thousands of fitness enthusiasts trusts this equipment.
Its multi-function press arm and a no-cable changing features gives you more workout time without worrying too much about your exercise resistance. Its dual function press arm and dual function leg developer are perfect in working your upper and lower body muscles.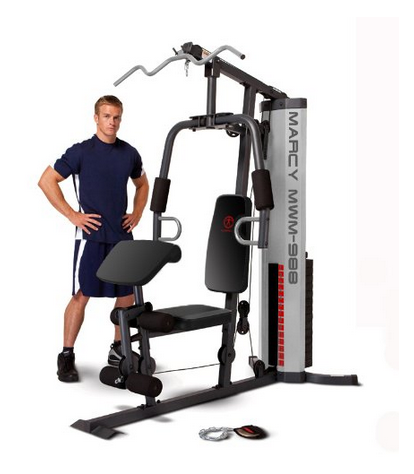 Marcy MWM-988 Home Gym features high and low pulleys, which are also beneficial for your upper and lower body exercise routines. The lat station is provided for strengthening your back and shoulders.
With adjustable preacher curl bicep pad, you will be able to do isolated bicep exercises that you can't do on your standard home gym equipment. The press arm performs chest pressing and vertical butterfly exercises while its dual leg developer is designed to properly work with your knee joints for safer and more effective lower body workouts.
Marcy MWM-988 Home Gym Reviews
Very nice!! Easy to put together. About 3 -4 hours to assemble. Works very smooth. I bought all the other attachments , tricep vbar etc… I use daily now for 3 weeks and can already see improvement in strength and burning fat.
Bought this home gym and love it. You can use it in the convience of you own home without paying high prices at the gym. If you are looking for a weight machine, look no further…
Overall a good gym. Haven't had much time to use it, doctors orders, but my dad likes it. It takes a while to setup. Took 3.5 hours and i had two workers put it together.
This home gym has been great for my whole family. A variety of exercises my be performed on this gym. It is Sturdy and provides enough weight to tone and define. Good for beginners. Very easy to assemble.
Marcy MWM-988 Home Gym Full Specifications
For total body workout, strength training, body shaping and core muscle conditioning
Number of exercises: 15 workouts
Heavy-duty, 14 gauge steel tube frame with solid steel protective weight stack covers
150 pound vinyl coated weight stack
Dual function, independent motion press arm and vertical butterfly capabilities
Dual function leg developer with pivot point
Lat station for back and shoulder strengthening
Adjustable preacher pad for comfortable bicep workouts
Contoured foam roller pads for extra comfort
Comprehensive exercise poster
Exercise types: arm curl, leg extension/leg curl, row, leg lifts, pectoral fly station, bench press and ab crunch station
Maximum user weight: 300 pounds
Product weight: 263 pounds
Dimensions: 79″ H x 68″ L x 36″ W
Warranty: 2-year limited manufacturer's warranty