Are you looking for a smith machine with a versatility of a cable crossover or a power rack? If yes, then Marcy SM4008 Smith Trainer is the perfect solution to your fitness requirements.
This highly durable smith trainer is made out of an oversized 14-gauge square steel tubing, which is designed to help increase your muscle mass, strength and stamina. This equipment has a smith-style press bar with adjustable safety stops and outside-the-frame bar catches.
Marcy SM4008 Smith Trainer can give you multi-angle fitness support that will completely take your fitness program to the next level.
Read on to find out more how this machine really works.
What is Marcy SM4008 Smith Trainer?
The SM4008 combo smith machine is a one of a kind trainer that offers and excellent workout to your body. Designed and produced by Marcy, one of the world's top gym equipment maker, the Marcy SM4008 Smith Trainer is equipped with complete arsenal for all types of body workouts as possible.
This weight machine features an independent motion upper pulley cable crossover design for ease of use. The total leg developer will push your legs to the limit that targets your hamstring, quads and glute muscles.
Marcy SM4008 Smith Trainer also features a detachable bench that will give you the flexibility to do any range of weight-lifting exercises comfortably. It is also much safer and secure to use compared to other free-weight racks that are abundant in the market.
Its bench is composed of high-density foam seat that is presented with boxed upholstery that provides soft and comfort seating exercises. This smith trainer also has chin-up bar, foam roller pads, safety catches and many others that all constitutes to a perfect all-around workout.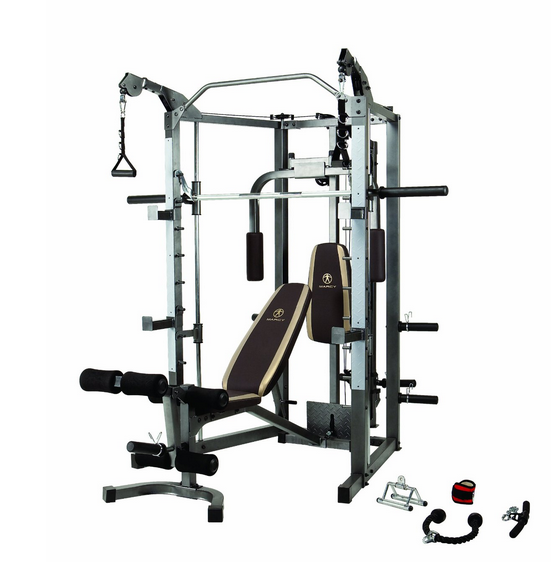 Marcy SM4008 Smith Trainer Reviews
This is a very nice home gym, very complete set. It is a massive undertaking to put it together. You also want to check the spec before starting to put it together for ceiling clearance. It took us a long time to decide where to put this gym in our home. I had intended to put it in our basement where our other work out equipment is, but it wouldn't fit. Works well, very nice.
Great equipment. I'm glad I actually took time to read reviews. Most of the negative comments seem to not say anything about the machine… probably took me 5 hours to put together and another hour or two to unpackage and organize the materials for assembly. I used marker labeled styrofoam cups to organize all the pieces. Very solid. I'm 245 lbs and everything holds me and my weights with no problem. With wd40 the guide rails and pulleys all work exactly how they should. Not the noisiest but could be quieter and could be smoother but is not bad for either. It is not perfectly as smooth as gym quality BUT it is equally functional and smooth enough to not make it feel any different for performing the exercise. Excellent value.
Good bench, cables are smooth and work well. Smith machine is poor, sticks, not enough adjustability-stops are too far apart. Expect too spend 6+ hours to assemble.
Marcy SM4008 Smith Trainer Full Specifications
Smith-style press bar with adjustable safety stops
Chin-up bar
Contoured foam roller pads
Multi-position seat pad adjusts to incline, flat and decline chest press workouts
Low pulley with foot plate support for seated row workouts
Independent motion vertical butterfly
Independent motion upper pulley cable crossover design
Nylon pulleys reinforced with sealed bearings
Steel aircraft cables rated at 2,000 lb tensile strength
Boxed upholstery with high density foam
Oversized, large diameter square tubing
4 Olympic weight plate storage posts
Adjustable bar and safety catches for Olympic bar (sold separately)
Durable powder coated finish
Accessories include "V" bar, shiver bar, tricep rope, chain link, 2 handles and ankle strap
User weight capacity: 400 pounds
Requires assembly
2-year warranty