Monster Test is another bodybuilding supplement made from natural ingredients, vitamins and minerals.
I found this brand as a potent one as it features large doses of herbal agents that are all known to help improve energy, muscle growth, physical performance and even increases your sexual desire.
As a testosterone boosting product, you can expect a sudden boost of energy on your workouts, reduction in tiredness and fatigue, and many other benefits.
Best of all, Monster Test is formulated to improve your sexual health. This brand claims that it can help bring back that "monster" in you!
But can this brand truly deliver? What are its advantages against other testosterone products online? Read on to find out.
What is Monster Test?
Monster Test is a quality product of Angry Supplements. As aforementioned above, this brand is a testosterone booster which aims to improve your overall sexual and physical performance.
According from its official website, this supplement can rapidly increase your muscle size, improves your strength and athletic performance, supports joint health, elevates your energy levels and boost your sex drive.
Plus, this brand also acts as your daily multi-vitamin supplement as it feature various vitamins and minerals on its formula.
But Monster Test is primarily marketed as a bodybuilding and sports nutrition pill. So if you want to effectively improve your workout results, this brand may be the right choice.
You can purchase this brand at any online supplement retailers that Angry Supplements are partnered with. Or you can directly purchase from its official website, though it is much more expensive if you go directly at their website ($39.95 per bottle).
I found an alternative online retail shop that offers big discounts. You can purchase Monster Test at Groupon.com for a discounted price of only $19.99 per bottle.
Angry Supplements also offer a 1 week trial of this brand. This is convenient to people who want to try the pill first before they order the one month supply.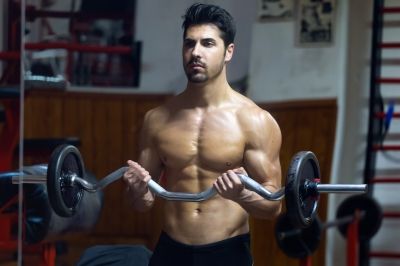 Monster Test Ingredients
Monster Test has a proprietary blend packed with known testosterone-boosting agents. Plus, its dose is a whopping 5,452mg per serving, which ensures efficacy for both bodybuilding and sexual health enhancements.
First off, this brand offers vitamins A, C, D3, B6, B12, magnesium and zinc.
The proprietary blend is composed of tribulus terrestris, triphala, garlic, horny goat weed, maca extract, rhodiola rosea, L-Arginine, saw palmetto, omega-3 fatty acid, tongkat ali, D-Aspartic acid, ginseng, chrysin, L-Carnitine, indole-3-carbinol, boron, bulbine natalensis, ginkgo biloba extract, fenugreek and L-Citrulline.
Its non-active compounds are dicaclium phosphate, microcrystalline cellulose, stearic acid, solutab and magnesium stearate.
So How does Monster Test Work?
Obviously, the formula above speaks for itself! That dosage is one of the most potent and powerful formula that I have ever seen in a testosterone boosting supplement.
Monster Test works by utilizing its formula, which I believe is primarily anchored on herbs and its amino acid contents.
This brand contains amino acids L-Citrulline, L-Arginine and L-Carnitine. All of these compounds are known effective for mental, physical and sexual health improvements.
L-Carnitine is a known fat burner and is also beneficial for male infertility. L-Arginine meanwhile is known to help improve blood flow due to increase production of nitric oxide (another agent that is beneficial for muscle growth).
L-Citrulline is also known for male infertility but can also be beneficial for muscle growth and athletic performance.
Monster Test also feature conventional herbs that are commonly used for testosterone boosting purposes – tribulus terrestris, horny goat weed, tongkat ali, rhodiola rosea and fenugreek.
These herbs are all known to improve male sexual health by fighting infertility, erectile dysfunction and boosting libido. These herbs are also known to help elevate energy, physical performance and fastens muscle growth during workouts.
Other ingredients of Monster Test are proven effective for weight loss, circulation, athletic performance, focus, male infertility, and many others.
Is Monster Test Ideal for You?
Monster Test is one of the best supplements online that you can use for your bodybuilding program. It can provide you with dozens of health benefits that you can't get from other more expensive sports nutrition brands.
Aside from being an affordable supplement, Monster Test also has no known side effects, so you don't have to worry about any types of adverse health reactions most of similar supplements and even medicines have (source: http://sideeffectsofxarelto.org/the-first-lawsuit-moves-forward/).
Though safe, you are still encouraged to consult your doctor first before you take Monster Test.
Conclusion
With tons of testosterone boosters in the market, you are probably confused which one to take. I suggest that you just don't depend on popularity and believing that expensive brands are more trustworthy and effective.
Think about the formula and analyze if it provides enough potency for your health needs. With regards to Monster Test, its formula is definitely one of the most impressive in the market.
Overall, below are some of the reasons why this supplement is ideal for you!
100% natural formula
Powerful dosage unlike no other in the industry
Rapid muscle gain and improve performance is highly likely
No known side effects
A very affordable brand
To purchase Monster Test, visit Groupon.com right now!
Image from: www.freedigitalphotos.net / http://www.populardietpills.net/monster-test/