Nautilus T614 Treadmill is one of the most impressive cardiovascular exercise machine in the market today with regards to looks, sturdiness, dependability and built. This treadmill is not a cheap machine, it is not too expensive either.
Treadmills are an essential tool for your overall fitness program. Whether you need to lose weight or improve your cardiovascular health, treadmills are still the bestselling exercise machine today.
With lots of treadmills in the market to choose from, what are the reasons why you should buy T614? Well, this review will give you more than just reasons why you have to choose this treadmill instead of any other brands out there.
Read on and learn why Nautilus T614 Treadmill is worthy of your overall health investments.
Nautilus T614 Treadmill Overview
Nautilus T614 Treadmill is owned and distributed by a US-based company called Nautilus Inc. This treadmill is powered by a 2.75 CHP motor and packed with 22 workout programs.
This treadmill features an in-house designed cushioning system that delivers unparalleled comfort, giving you the smoothest run you will ever experience in treadmills.
Nautilus T614 Treadmill comes with a Dual Track Multi-LCD display console with goal tracking functionality, enabling you to set and track exercise goals of workout time, distance traveled and calories burned.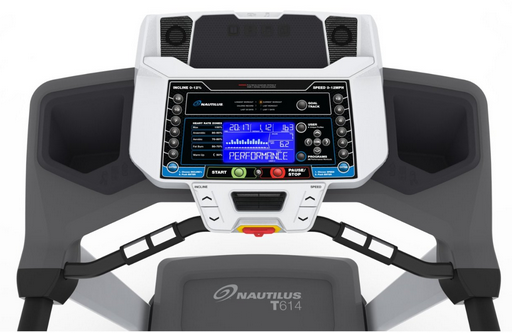 Nautilus T614 Treadmill Features
Console

-Large 3" x 5" high-resolution blue backlit LCD monitor

-NautilusConnect goal tracking and data export keeps you aware of your progress and focused on your fitness goals

-USB charging port and data exchange to NautilusConnect and/or myfitnesspal.com

-22 programs: 1 manual, 3 quick goals, 5 training, 3 weight control, 5 heart heath, 3 interval and 2 custom

-Quick access speed and incline buttons

Running Surface

-20" x 55" running belt

-StrikeZone 4 cell cushioning

-Large 2.5" crowned rollers for a smooth and quiet workout

Internal Specifications

-2.75 CHP motor

-Speed 0 to 12 MPH and incline 0° to 12°

-Standard 110v power requirements
As you can see from the details above, Nautilus T614 Treadmill offers great features in an unbeatable price ($799.99). Nautilus T614 Treadmill also provides a media shelf, giving you the ability to rest a magazine, book or a tablet in front of you while working out.
It also features a USB charging port and data exchange to NautilusConnect and/or myFitnessPal.com. It also has built-in acoustic chambered speakers for big sound.
Lastly, Nautilus T614 Treadmill features a 2.5-inch crowned rollers and a SoftDrop (TM) folding system. This treadmill can accommodate up to 300 pounds (maximum) of user weight.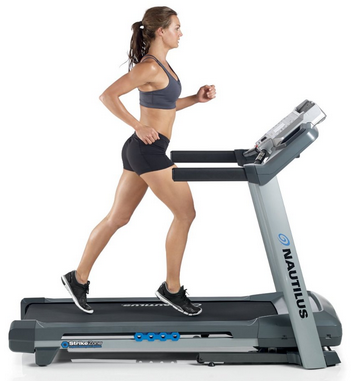 Nautilus T614 Treadmill Reviews
I got to say I really enjoy this treadmill. Easy to use, solid design as I have had no issues running on it even with my 6'5 305 lbs frame. Although I have only had it set up for ten days I have had no issues with tread slip or impact on my ankles or knees. The sound from the speakers is great as I like to listen to my hip hop collection as I run. The treadmill was a little difficult to set up but that's why I called in an expert to put it together for I am not the most useful at putting together gadgets. Cooking, firearms, hand to hand combat and Xbox games are more my speed. My dumb cats have even been getting a workout on this device which has given me much entertainment watching my fat Siberian cat look like he is running for his life. Now only if the dog was not afraid of it he might use it too. All in all I am very happy with this device. Good looking, sharp led screen, and it is helping me lose some of my extra bulk as now I am down to 301 lbs. More to follow on my journey to 250 lbs.
So far, I LOVE THIS TREADMILL. My husband loves running and I love walking. The treadmill is substantial and feels like it will last a long time even with daily use. Doesn't rock or move when using. Just like what you'd find in a good gym. A+++++++++
My daughter in law and I love this treadmill My son was able to assemble it for us in no time at all.We have a heated garage that makes a perfect place to use it in.I fold it up and use a kingsized flat sheet to cover it to keep dust off. Very well made and easy to use.
The Nautilus T614 is perfect for all my needs. It's well made and very sturdy. I'm 5'7″ and it's almost a tall as I am. I have knee and back problems and I'm unsteady on my feet but I feel perfectly safe on this treadmill. The cushioning system I great as well. I love the 3-speed fan because I get hot very fast and the fan helps keep me cooler. There are many different features and programs. The blue backlit display is very easy to read. It shows how long you've been walking, calories burned and so forth. It will go up to 12mph but I will never go that fast. It does need to be assembled but my brother and his wife put it together in under an hour. It's a very sturdy machine and I'm comfortable walking on it. Oh, and I can put my Kindle on the media shelf and read while I walk. I absolutely love it!
Conclusion
Nautilus T614 Treadmill is one of your best options if you want a dependable, modernly advanced but fairly priced treadmill machine. This machine has tons of positive reviews online which guarantees customer satisfaction.