Modernity now is being free for what we want, many people are doing what they want or need and majority of them are inventing something that is eye-catching like this Charlene Johnson's Piyo Workout.
If you are obsessed of new exercises, then this routine is for you. This Piyo who originally created by Charlene Johnson, is a compilation of DVD's where you can find the workout instructions, processes or routines which will help you to burn calories (even excess fat), sculpt your body and at the same time, tone your muscles and increase your flexibility.
By following the workout instructions, it will give you faster result regardless of your age and body type. This workouts will help give you noticeable results in all over your body. It is suitable for you, if you are a person that wants a better physique
Charlene Johnson's PiYo Workout Features
12 Workouts on 4 DVDs
Align: The Fundamentals – This is an important workout which will help you to understand and perform the workouts well.
Define: Lower Body –This workout helps your muscles works on your thighs & calves and helps you to strengthen your lower body including hamstrings.
Define: Upper Body – By the help of this workout you can reshape your upper body especially in your arms.
Sweat – This workout is effective to help body sculpting superbly easy. It also helps you to burn calories by the help of yoga practices at a dynamic speed.
Core – This workout will help you to build a strong core, flat, sculpted abs and oblique, as well as a strong and sexy back.
Strength Intervals – By these nonstop body movements, burning lots calories are possible.
Drench – This endurance workout works on every muscle in your body. Through a warm up and stretching it will make your heart rate faster and speed up your metabolism with the result of improving your endurance.
Sculpt – This workout uses your muscles to make your body totally tone. This process keeps your muscles works under tension for different periods of time.
Buns – This workout will help you to make your backside body tighten specially on butt and also works on thigh and legs.
TurboFire HIIT 20 – This process will push you to the limit with this intense throwback.
Powerful Tools
Quick Start Guide –This guide will help you to know how to start while giving you tips to achieve the body that you want. It will make you knowledgeable what is the best workout that suits your body.
PiYo 60-Day Workout Calendar – This calendar will help monitor your workout. And this will remind you which workout is working for you. If you want, you can use this as Strength Accelerated calendar.
PiYo Strength Accelerated Calendar – This training workout calendar for accelerated results will help you for much better results by adding more workouts to your routine based on your 60-Day Workout Calendar.
DELUXE KIT EXCLUSIVE
Full Body Blast (30 min) – It uses Beachbody Strength slides to make you burn fats in high potential.
Strong Legs (30 min) – It uses Beachbody Strength Slides to have a strong and define legs through lunging, squatting, and stretching.
Yoga Mat – This mat has made of durable material that has a cushioned and textured surface to promote nonslip traction and comfortable control, also easy to bring, if you want other place to burn those calories.
*The Yoga Mat contains natural rubber latex which may cause severe allergic reactions.*
BONUS
Get Lean Eating Plan this plan is absolutely designed for healthy eating lifestyle. Eating variety of nutritious food helps you get fit and will give you an easy way to have a lean, strong and define body.  With this combination of eating proper foods while doing workouts will result in a perfect healthy body inside and out.
Tape Measure – measuring is a way to track your progress as you lose those fats.
 Strength Slides with Booties – this help stimulate your glutes, and activate muscles at the same time while increasing the intensity of your workout and slip the booties over the slides to use on smooth surfaces.
This workout combination gives a result of muscle-sculpting, core-firming benefits of Pilates with the strength and flexibility advantages of yoga and it cranks up the speed to deliver a true fat-burning, low-impact workout that leaves your body looking long, lean, and incredibly defined. It also takes you through low-impact stretching, strengthening, and body weight resistance-based exercises that promotes lean muscle development.
Advantages
12 Workouts on 4 DVD's; you can make variety of workouts.
Complete training program for both beginners and seasoned athletes
Disadvantages
Not giving intensity like lifting on gym
Quite pricey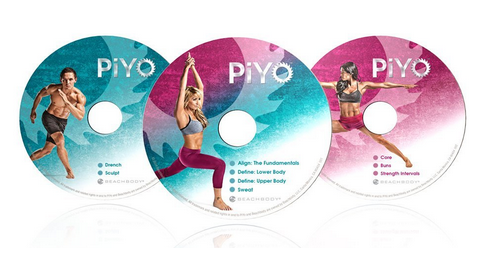 Conclusion
This Charlene Johnson's PiYo Workout is perfect for those who have a hectic schedule, no time to go to the gym but have lots of excess fats to lose and to those who want to improve their health.
The intense cardio can give you a significant and fast full body transformation, so if you were at your old workout process this is a sign to try new experience, excitements and a challenging way of making your body fit.