To maintain a toned and strong arms, legs, shoulders, back and any other parts, you need a huge effort on your part to enhance your cardiovascular health. If you are looking for a product that can provide you this benefit, then RW1000 Indoor Rower is the right one for you.
This rowing machine will help you to achieve your exercise goal in order to lose weight and at the same time, will help you to avoid diseases. It is sturdy, containing durable construction that will supports users of up to 300 pounds (136.1 kg).
For people who want a smooth & quite rower while giving a good workout in a relatively short period of time, the folding RW1000 Indoor Rower is perfect for you.
It is very easy to use, just sit down on a padded seat and you are ready to workout. Simple to use features and variety of intuitive readouts will help you to get motivated and finish your workout easily while it folds up quickly for easy storage. Easy folded rower is great for you if your space is limited.
LifeSpan Fitness RW1000 Indoor Rower Features
Eddy Current Drive System – this patented feature system have smooth and quiet resistance.
16.5-pound flywheel with magnetic brake resistance
Magnetic brake resistance – is a solid steel frame with assembled dimensions measure 90 x 18.5 x 23 inches (L x W x H).
For easy storage – it consist Folded Dimensions (34″ L x 19″ W x 64″ H (86.4cm L x 48.3cm W x 162.5cm H)) and Unfolded Dimensions (90″ L x 18.5″ W x 23″ H (228.6cm L x 47cm W x 58.4cm H)). For folding and storing rower, there are no required tools to be used, just remove the locking pin, fold it and replace the locking to lock the frame in the folded position then after folding it rolls on the transport wheels located underneath the footpad. In overall purpose it will help you for easy moving and storing using this folded feature.
Three-LCD console – it provides to displays distance, calories, time, strokes, and strokes per minute workout feedback, giving you all the information you need to get a great total body workout.
300-pound – is a maximum user weight.
No-slack retrieval system – it ensures the rowing strap is never loose and it also works even during intense workouts.
Recipient of the 2008 Gear Awards Seal of Excellence
Padded seat – it is a comfortable 14" injected foam seat with a height of 11″ (27.9cm) to 14.5″ (36.8cm).
Padded hand grips – it will give you comfort gripping.
Swivel foot rests with straps – it is a large swivel foot pedals with Velcro straps 87- by 19- by 23-inch footprint.
Recipient of the 2008 Gear Awards Seal of Excellence
Monorail Length – 53″ (134.6cm) fitting inseams up to 38″ (96.5cm)
3 – Year Warranty
The Accessories that you needed to add: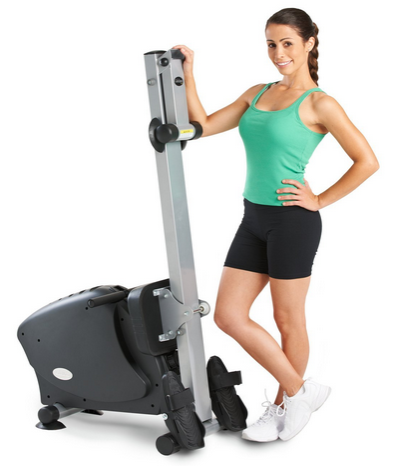 Advantages
Folds Easily
The seat can move easily
Quiet, Comfortable and Smooth
Easy to put together
C3 LCD Screens
Affordable rower
Disadvantages
Fabric strap which provides little assistance
Conclusion
Rowing is a great exercise that will help enhance your health and strengthen your body. Perfect for those who want to maintain their physical youthfulness and of course for anti-aging purposes. This product will help so much in giving you a strong muscle and good health.