Do you love fitness gadgets? If you do, then you probably have your own heart rate monitor. Today's featured product is about Zephyr HxM BT Heart Rate Monitor, one of the most highly rated fitness gadget in the market today.
Why do you need a heart rate monitor in the first place? Well, most physiologists and fitness experts suggests that your workout should be within your heart rate zones to be able to achieve your fitness goals such as weight loss or cardiovascular improvement.
Zephyr HxM BT Heart Rate Monitor can give you the flexibility of monitoring your heart rate even when you are on the go. So you don't have to hold on to handle bars on treadmills just to have an idea where you at.
Read on and learn the full specifications of this fitness gadget.
What is Zephyr HxM BT Heart Rate Monitor?
As mentioned earlier, the Zephyr HxM BT Heart Rate Monitor is rated highly in most gadget reviews and is currently one of the bestselling heart rate monitors in Amazon.
Produced and marketed by Zephyr Technology Corporation, the HxM BT is one of its classic products for fitness and is the first tracking device supported by both Windows Phone 8 and Android smartphones.
Its Bluetooth connectivity feature will allow you to track your heart rate, speed, distance and intensity level with ease and without any complicated pairing procedures.
The HxM BT also features Smart Fabric, a conductive fabric that provides market-leading comfort and accuracy. The device is woven onto a soft, elastic, adjustable machine washable strap, that can be worn around the chest. The strap can be adjusted up to 40 inches, suitable for those wide bodied individuals.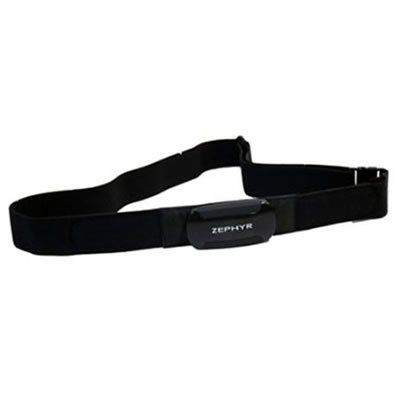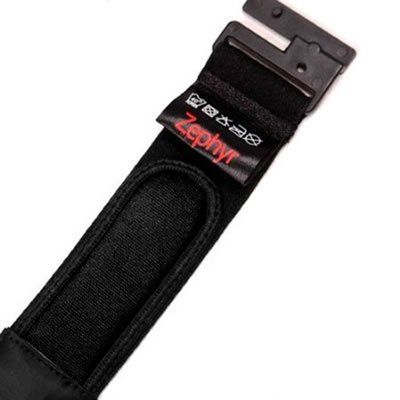 Zephyr HxM BT Heart Rate Monitor is supported by dozens of apps that include Endomondo, Strava, SportsTracker, Runtastic and much much more. So the HxM has an open communication design which gives you more unparalleled flexibility that won't tie you on just using one app that will cost subscription fees.
The Zephyr HxM BT Heart Rate Monitor also features a long transmission range of -10m and also a water resist of up to 1m. But one of the best features of this gadget is its long battery life of up to 26 hours per charge.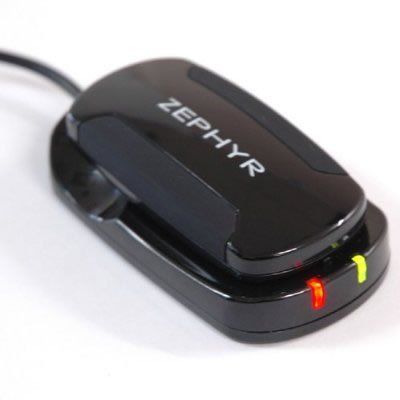 Zephyr HxM BT Heart Rate Monitor Reviews
Unlike the

Polar HRM

, this one works just fine if your phone is in your back pocket, which is a common scenario for cyclists. I'm using it with Endomondo on an Android Froyo phone and in seconds it was up and working. I do wish it came with an AC-USB charging adapter since this unit charges only with USB, but I have enough of those laying around that it's no big deal.
Finally, a Bluetooth heart rate monitor for Android based smartphones. I am really pleased with this the Zephyr HxM Bluetooth heart rate monitor. Easy to use, comfortable chest strap, decent battery life make this product a winner. My one difficulty has been selecting an app to track my training results and goals. Zephyr doesn't offer a robust app but many other developers do have free or low cost options. It is just a matter of trying them all out and deciding on which app to select as my primary interface.
I use the Zephyr with my phone in lieu of a separate HR/GPS workout tracker. I have not had any problems with the Zephyr tracking my heart rate during biking, walking, hiking, running or weight lifting. As I have moderately dry skin, I do wet the band before putting the Zephyr on. Since I tend to sweat fairly easily, I have not needed to re-wet the band. I'm glad I bought the Zephyr, and I am happy with the ease of setup and functionality with my Droid Razr Maxx and Endomondo (free version).
Directly compared to the Polar Bluetooth heart-rate monitor equilivent this heart rate monitor is rockin'. I love the fact that this heart rate monitor has a rechargeable battery and seems to hold connections brilliantly when connected to a Bluetooth device. I've been using it with my daily runs via the Endomondo app for Android and the results have been great. Highly recommend this Heart-rate monitor if your looking for a monitor to pair with your Bluetooth device.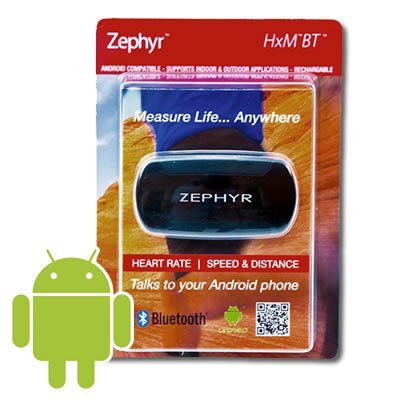 Zephyr HxM BT Heart Rate Monitor Full Specifications
Bluetooth connectivity
Machine washable strap
Long transmission range (-10m)
Water resistant up to 1m
Supports dozens of Apps (no subscriptions required)
Measurements (heart rate, R-R Interval, speed, distance)
HR range: 25-240 BPM
Battery: Rechargeable Lithium Polymer (26 hours battery life per charge)
Frequency: 2.4 – 2.4835GHz
Operating Limits: -10 – 50°C temperature and 5 – 95% humidity
12-month limited warranty from defects (strap is replaceable)