Have you tried watercraft rowing? If yes, then you know that rowing is a very efficient type of workout for overall fitness. Now you can do this sport in the comfort of your own home with the most natural rowing equipment in the market – WaterRower Natural Rowing Machine.
Rowing machines perfectly simulates the movements of actual watercraft rowing. Rowers have different characteristics depending on the brand or its resistance.
WaterRower Natural Rowing Machine is made specifically to mimic natural watercraft rowing into a portable, wood-made exercise rower.
Read on and get more insights on how this rowing machine can benefit your health.
What is WaterRower Natural Rowing Machine?
WaterRower Natural Rowing Machine is one of nine quality and uniquely designed rowing machines of WaterRower. This rower is powered by WaterFlyWheel, a unique flywheel that is different from any other rowing machines in the market.
The Natural Rowing Machine is designed in Ash Wood with S4 Monitor, meaning that it is not completely manual because it combines traditional wood-strong frame and a technological display monitor.
This one is a classy and elegant machine, with solid construction and superior engineering that is known for all WaterRower products. Completely handcrafted rowing machine, the WaterRower Natural Rowing Machine replicates watercraft rowing movements which gives you a full workout.
The Series 4 performance monitor helps you track your progress, so you have better idea on where you are in your fitness program.
Why Rowing is Important to Your Health?
Rowing is one of the most recognized method of fitness that is designed for both cardiovascular health and muscle development. It performs natural, smooth and flowing movements that are not going to give burden to your joints, but are heart-friendly strokes.
Today, you can take advantage of home-based rowers that offers similar health benefits as watercraft rowing. Due to different mechanisms and designs, portable rowers offers different resistance that can suit your preferences.
As said earlier, WaterRower Natural Rowing Machine has built-in WaterFlyWheel, which is consist of two paddles in an enclosed tank of water. This provides a quiet and smooth resistance that mimics actual watercraft rowing where you paddle in an actual body of water.
Fitness experts suggest that rowers works about 84% of your muscle mass, which helps tone and strengthen your muscles. This also burns more calories and fat that will help you lose weight more. Unlike treadmills that are just designed for cardiovascular health, WaterRower Natural Rowing Machine also develops your endurance, stamina and promotes muscle growth.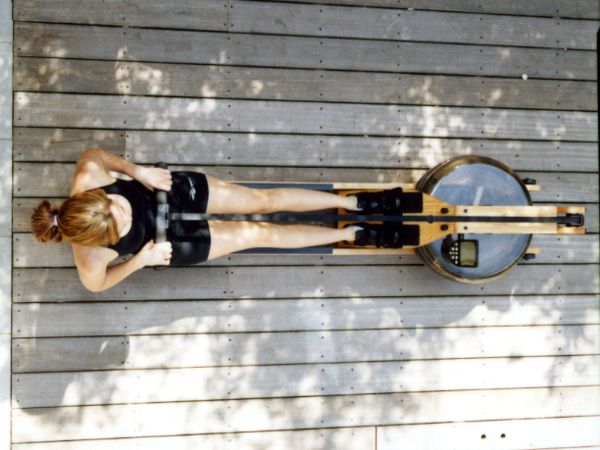 WaterRower Natural Rowing Machine Features
WaterRower Natural Rowing Machine features Series 4 monitor that shows six information and programming windows, six QuickSelection buttons and three navigation buttons. The S4 monitor displays your workout intensity, stroke, heart rate, zone bar, duration and distance. Plus, you can also ad an optional heart rate chest strap and receiver if you want to optimize your workout more.
This rower is handcrafted with solid ash and stained honey oak for consistency of color and design. WaterRower is the only fitness equipment company that uses wood for its products. The wood, according the WaterRower, offers different and marvelous engineering properties which has the ability to absorb sound and vibration. Unlike traditional rowers that are inconvenient and noisy. The hardwood frame is designed to last and offers an incredible dimensional stability.
WaterRower Natural Rowing Machine is also composed of dual rails with four corner wheels, which helps increase seat stability and reduce the amount of sweat buildup. The frame flips upright for handy storage. The weight capacity for this rower is up to 1,000 pounds, a feature that even a metal-made rower can't match.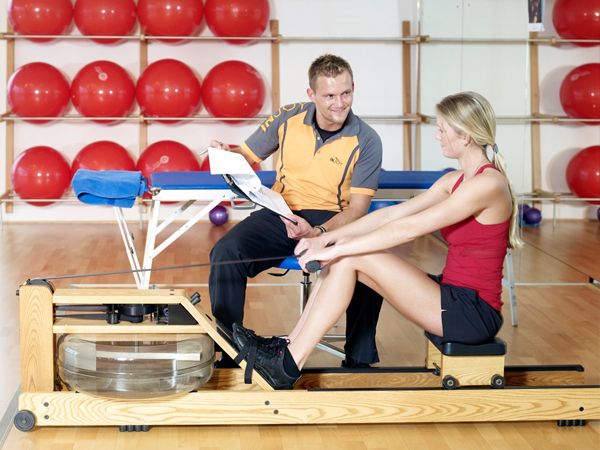 Purchasing WaterRower Natural Rowing Machine comes with an easy-to-follow set of assembly instructions. Its 10-step assembly guide is packed with pictures that will help assembling more easier to follow. Allen wrench is the only tool you will need to assemble this great equipment and it is already provided upon your purchase.
Its water tank (WaterFlyWheel) is made from quality and durable polycarbonate plastic, one of the strongest plastic type for heavy duty needs. WaterRower Natural Rowing Machine's handle is made from aluminum which is designed for light and making the machine responsive.
The footboard of the footrest can accommodate any foot size and has built-in foot straps for more convenient and secure rowing movement.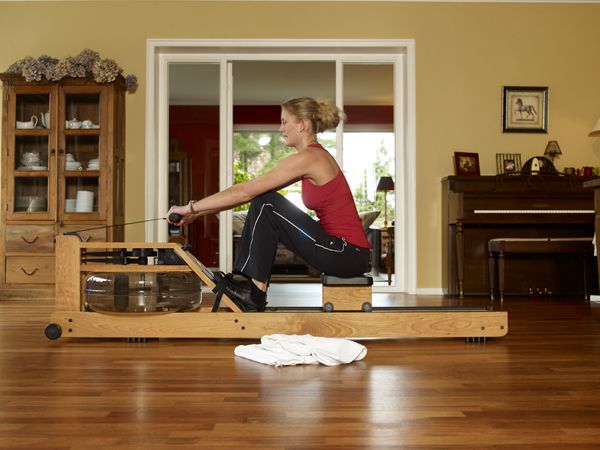 WaterRower Natural Rowing Machine Advantages
WaterRower Natural Rowing Machine has tons of positive reviews online. Most fitness enthusiasts gave high praises for this uniquely designed rowing machine because of its nature-like built. In Amazon, you will learn almost every advantages this rowing machine have compared to ordinary rowers.
Most notable advantage is its quiet flywheel. Since WaterRower Natural Rowing Machine is made up of water, it doesn't feature any squeaking sound that is often experienced in conventional rowing machines. The Natural Rowing Machine is smooth and totally cool to work with.
Plus, people likes the water resistance that WaterRower Natural Rowing Machine offers. Some customers who have experiences with watercraft rowing claims that this rowing machine is the simplest and best rowing machine that is comparable to the actual thing.
The only thing that will discourage you is the pricing, which is at $1,160 in Amazon. Aside from its price tag, you will surely love every feature of WaterRower Natural Rowing Machine.
WaterRower Natural Rowing Machine Reviews
Had mine for at least 10 years. Only had to change battery in timer. Never have added any chemical to water to sterilize since purchase and it is still crystal clear with no microbial overgrowth. I am an amateur sculler and this unit is the closest I have experienced to sculling.
After a month of use we absolutely love this rower. Quiet, Quiet, Quiet. You can hear everything in your house while you use this rower. Very smooth and stores in a small space. We are not competitive rowers so the electronics does everything we want. It keeps track of our effort and time spent.
I am so happy to have this rower! It was quite easy to assemble (thank goodness). It is very easy to use, and feels good. I have only one item of discontent: it is difficult (for me, anyway) to adjust the foot pads. If someone other than me wants to use the rower, it is very difficult to resize the pad for them. But I like the look and feel of this rower.
I was looking for equipment that would be easy on my knees and this is it! The machine was easy to assemble and it stores very easily as well. I use it every day and when I am done, I just pick the machine up and roll it to the wall. The monitor me how long I have rowed, the distance and the calories I have burned! I would recommend this equipment to anyone who is looking for a good workout for 30 to 60 minutes a day.

Full Specifications of WaterRower Natural Rowing Machine
Water resistance
Dimension (in use): 82.25 x 22.25 x 20 inches
Dimension (in storage): 20 x 22.25 x 82.25 inches
Machine weight: 66.5 lbs (dry tank) / 103.5 lbs (full tank)
User weight limit: 1000 pounds
Storage: Upright
Warranty: 1 year warranty, upgradable to 5 years on frame, 3 years on parts upon filling up registration form